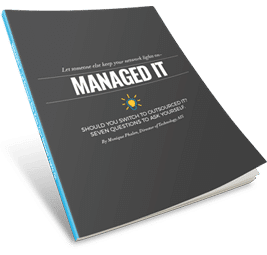 If you're managing your own IT, you could be wasting time, energy, and dollars on keeping the lights on technology.
Your answers to the 7 questions in our eBook will show you the way to managed IT outsourcing.
Finding and paying for IT talent is hard. Planning for and future-proofing your IT infrastructure – network, security, helpdesk, backup, etc. – is hard and time-consuming. IT experts have a hard time keeping up!
You have a business to run. You need information technology to compete and stay ahead of the competition. But you want to focus on your business, not become an IT expert.
A managed IT partner could be the answer to your IT challenges.
Download the free eBook NOW and discover your IT edge.